In the Snow: Who's Been Here?
Friday, November 15, 2019 by Miss Kathie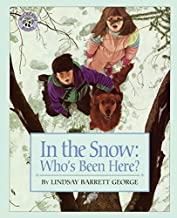 We have a new book on the story trail –" In the Snow: Who's Been Here?" by Lindsay Barrett George. A brother and sister go for a walk, seeing signs of animal life along the trail. The reader is given clues to guess what animal has been here. A fun story. We are hoping for snow at the Nature Center soon so we can look for our own signs in the snow.
---
---
---
The Library at Butler Corner is awesome. Please come and visit. There are so many beautiful books – children's books, middle grade books, and adult books. We have a loft where you can curl up and read, and all the books are check-out-able if you have a membership to Butler Corner. Memberships are $20 per year for an individual, $30 a year for a family of 5, and $50 a year for the "birder's special" for those who want to come early in the morning or late in the evening to walk the trails at the Nature Center.
The library is an "old fashioned" library with pockets inside the books where you sign the card to check it out. Most of the books are nature related, except for the children's books where we have a large selection of not only nature books, but fairy tales, story books, poetry, fables, and books about other cultures.
---
Previous Posts