What a Wonderful World
Friday, September 13, 2019 by Miss Kathie
We had a fun story time today at the Nature Center. We began by singing some favorite songs, then I took out this book, "What a Wonderful World." I had planned to read the words, but one of the mothers offered to sing it as I turned the pages. It is a song she sings often to her little one, and she knew the words by heart and sang it from her heart. Gave me chills!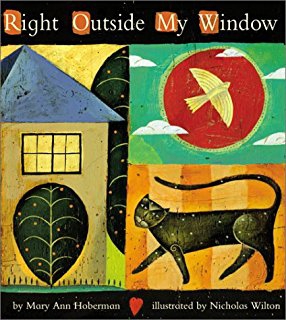 Next we read "Right Outside My Window" which was full of the many things we can see if we look hard enough. I then gave each child a treasure bottle. We went on a treasure hunt for tiny things we could find in the forest – things like acorns, tiny berries, little blossoms, itty bitty leaves, and puff balls. We found lots of tiny things right in the forest.
---
---
---
The Library at Butler Corner is awesome. Please come and visit. There are so many beautiful books – children's books, middle grade books, and adult books. We have a loft where you can curl up and read, and all the books are check-out-able if you have a membership to Butler Corner. Memberships are $20 per year for an individual, $30 a year for a family of 5, and $50 a year for the "birder's special" for those who want to come early in the morning or late in the evening to walk the trails at the Nature Center.
The library is an "old fashioned" library with pockets inside the books where you sign the card to check it out. Most of the books are nature related, except for the children's books where we have a large selection of not only nature books, but fairy tales, story books, poetry, fables, and books about other cultures.
---
Previous Posts