Diamond Willow
Thursday, October 16, 2014 by Kathie
Diamond Willow by Helen Frost is a beautiful treasure! Everything about it is poetically magical. My 5th grade River Writers enjoyed it today as I showed them how to incorporate shape poems into anything they might write. Helen Frost is a true artist. As my critique partner, and poet extraordinaire commented, "I wish I had thought of that!" Be sure to get your own copy of Diamond Willow.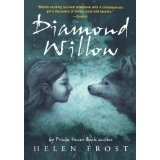 ---
---
---
The Library at Butler Corner is awesome. Please come and visit. There are so many beautiful books – children's books, middle grade books, and adult books. We have a loft where you can curl up and read, and all the books are check-out-able if you have a membership to Butler Corner. Memberships are $20 per year for an individual, $30 a year for a family of 5, and $50 a year for the "birder's special" for those who want to come early in the morning or late in the evening to walk the trails at the Nature Center.
The library is an "old fashioned" library with pockets inside the books where you sign the card to check it out. Most of the books are nature related, except for the children's books where we have a large selection of not only nature books, but fairy tales, story books, poetry, fables, and books about other cultures.
---
Previous Posts