Colors Abound
Wednesday, October 1, 2014 by Kathie
Colors abound -the theme for today's Story Time. We had fun singing fun color songs found on teachingmama.org. The little ones had to find different colors on their clothes as we sang. Then we read Chuck Murphy's Color Surprises. It's a staple of mine as the children never tire of guessing what is hiding behind each colored door. Yes, indeed, colors abound!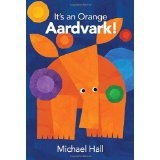 Our next book was Michael Hall's It's An Orange Aardvark. What a fun book to read out loud as the carpenter ants drill holes in their tree to see what is hiding outside. The surprise at the end put a smile on everyone's face.
We ended with the favorite of everyone - Brown Bear, Brown Bear, What Do You See? by Bill Martin and illustrated by Eric Carle. Our craft was a memory game using the illustrations from this book, found on The World of Eric Carle and could be downloaded and copied. I put them on cardstock and each child got an envelope to take their games home.
---
---
---
The Library at Butler Corner is awesome. Please come and visit. There are so many beautiful books – children's books, middle grade books, and adult books. We have a loft where you can curl up and read, and all the books are check-out-able if you have a membership to Butler Corner. Memberships are $20 per year for an individual, $30 a year for a family of 5, and $50 a year for the "birder's special" for those who want to come early in the morning or late in the evening to walk the trails at the Nature Center.
The library is an "old fashioned" library with pockets inside the books where you sign the card to check it out. Most of the books are nature related, except for the children's books where we have a large selection of not only nature books, but fairy tales, story books, poetry, fables, and books about other cultures.
---
Previous Posts