Chickens in the Library
Wednesday, September 24, 2014 by Kathie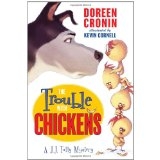 Chickens in the library? Yesterday I had my third grade after-school program – Rainbow Readers. I like to read one or two chapters from a book, sometimes two books. Then the children rate the books from 1 to 5 stars. I ask them to also write a comment about the book. They love to give their opinions and they are honest. One of the books I read yesterday was The Trouble with Chickens by Doreen Cronin and illustrated by Kevin Cornell. I can always tell when a book grabs the kids. I see eyes light up, grins, and the fidgeting stops. I knew right away this book was a winner. All but one child gave it 5 stars. The only hold-out was a 4 star. Some of the comments: "I love it." "This story is good!" "I want it." (Twice a year I let the children choose a favorite book and the library purchases books for each child.) Other comments: "This story is funny." "Lovin' it already." (After just two chapters.) "It's exciting."
I agree with the children. It is funny. The illustrations are delightful. Imagine a retired search-and-rescue dog being imposed upon by a worried mama chicken missing two of her chicks who in Doreen's words, "look like popcorn on legs." Definitely a winner!
After reading and reviewing, we made chickens. Now, I have four chickens of my own -Tilly, Milly, Imogene, and Rhoda, but none of the library chickens resembled them at all. Two large pom-poms, and an assortment of colorful feathers became some of the cutest little chicks I've ever seen. I ran the hot glue gun, and those chicks disappeared right out the door as the children left for home. Leaving no more chickens in the library!
---
---
---
The Library at Butler Corner is awesome. Please come and visit. There are so many beautiful books – children's books, middle grade books, and adult books. We have a loft where you can curl up and read, and all the books are check-out-able if you have a membership to Butler Corner. Memberships are $20 per year for an individual, $30 a year for a family of 5, and $50 a year for the "birder's special" for those who want to come early in the morning or late in the evening to walk the trails at the Nature Center.
The library is an "old fashioned" library with pockets inside the books where you sign the card to check it out. Most of the books are nature related, except for the children's books where we have a large selection of not only nature books, but fairy tales, story books, poetry, fables, and books about other cultures.
---
Previous Posts