Everybody Needs a Rock
Friday, August 23, 2019 by Miss Kathie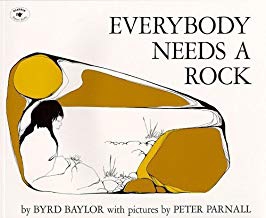 Byrd Baylor is one of my favorite authors, and this book is so simple, yet satisfying. She lists ten rules for finding the right rock. One rule is to get down on the ground and look at your rock eye to eye. After reading all ten of the delightful rules, the first thing anyone would want to do is to go out and look for your own rock.
I know my mom often carried a rock in her pocket. She called it her "worry stone" and would hold it in her hand, rubbing it as we drove across the high mountain passes, looking down at the steep ravines below. A rock can be a solid, comforting thing to hold onto.
---
---
---
The Library at Butler Corner is awesome. Please come and visit. There are so many beautiful books – children's books, middle grade books, and adult books. We have a loft where you can curl up and read, and all the books are check-out-able if you have a membership to Butler Corner. Memberships are $20 per year for an individual, $30 a year for a family of 5, and $50 a year for the "birder's special" for those who want to come early in the morning or late in the evening to walk the trails at the Nature Center.
The library is an "old fashioned" library with pockets inside the books where you sign the card to check it out. Most of the books are nature related, except for the children's books where we have a large selection of not only nature books, but fairy tales, story books, poetry, fables, and books about other cultures.
---
Previous Posts