New Story on the Trail
Wednesday, August 14, 2019 by Miss Kathie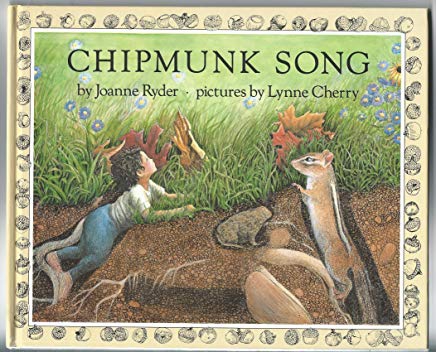 We have a wonderful "new" book on the story trail now. It is new to me, although it has been in print for more than twenty years. Such gorgeous illustrations by Lynne Cherry, and a delightfully creative story written by Joanne Ryder, the story suggests the reader imagine that he/she can become as small as a chipmunk. The story follows the tiny child and a true-to-life chipmunk friend as they leave their tunnel in the spring, travel through the woods throughout the summer and fall, gathering nuts and berries, until winter snows fall and the two curl up, each in their own warm den below the ground. This story fits our trail so well as we have many chipmunks and the landscape is quite similar.
---
---
---
The Library at Butler Corner is awesome. Please come and visit. There are so many beautiful books – children's books, middle grade books, and adult books. We have a loft where you can curl up and read, and all the books are check-out-able if you have a membership to Butler Corner. Memberships are $20 per year for an individual, $30 a year for a family of 5, and $50 a year for the "birder's special" for those who want to come early in the morning or late in the evening to walk the trails at the Nature Center.
The library is an "old fashioned" library with pockets inside the books where you sign the card to check it out. Most of the books are nature related, except for the children's books where we have a large selection of not only nature books, but fairy tales, story books, poetry, fables, and books about other cultures.
---
Previous Posts