Elsewhere
Thursday, October 16, 2014 by Kathie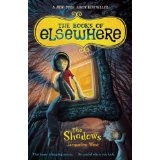 Elsewhere. Wow! Jacqueline West knows how to capture the attention of fourth graders! Yesterday I planned to read the first chapter of this, the first book in her Elsewhere series. After the first chapter, all of the kids said, "Don't stop now!" So I read one more chapter. I had planned a project for them to work on, and told the kiddos so. "We'll work on the project," they said, "but could you read while we work?" So, of course, I did. We spent our entire hour inside this riveting book.
Some of the kids' comments: "It's a scary, detailed novel." "I love it because I love spooky stories." "I like it because it's a mystery." "I give it a FIVE ** because it's so cool and scary. An eleven year old girl moves into a new house...." "Ghost-like story." We all love Elsewhere!
---
---
---
The Library at Butler Corner is awesome. Please come and visit. There are so many beautiful books – children's books, middle grade books, and adult books. We have a loft where you can curl up and read, and all the books are check-out-able if you have a membership to Butler Corner. Memberships are $20 per year for an individual, $30 a year for a family of 5, and $50 a year for the "birder's special" for those who want to come early in the morning or late in the evening to walk the trails at the Nature Center.
The library is an "old fashioned" library with pockets inside the books where you sign the card to check it out. Most of the books are nature related, except for the children's books where we have a large selection of not only nature books, but fairy tales, story books, poetry, fables, and books about other cultures.
---
Previous Posts