You Read to Me, I'll Read to You
Wednesday, October 15, 2014 by Kathie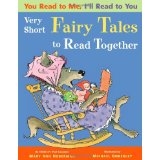 You Read to Me, I'll Read to You. I love this series by Mary Ann Hoberman. I have used her first book for several years with my second grade after-school groups. This year, I'm using her fairy tale book. After reading each of the delightful tales to the children, they chose partners to work with. Each group then chose one of the stories. We made masks to represent the characters. When the children become proficient with their stories, we plan to put on a presentation for their parents. If they do a super job, we may ask their teachers if we can perform in front of the second grade classes at school. Then, when we are finished, each child will receive his or her own copy of the book for their own. Thank you to Mary Ann Hoberman for creating such wonderful books to practice our reading skills! You read to me, I'll read to you!
---
---
---
The Library at Butler Corner is awesome. Please come and visit. There are so many beautiful books – children's books, middle grade books, and adult books. We have a loft where you can curl up and read, and all the books are check-out-able if you have a membership to Butler Corner. Memberships are $20 per year for an individual, $30 a year for a family of 5, and $50 a year for the "birder's special" for those who want to come early in the morning or late in the evening to walk the trails at the Nature Center.
The library is an "old fashioned" library with pockets inside the books where you sign the card to check it out. Most of the books are nature related, except for the children's books where we have a large selection of not only nature books, but fairy tales, story books, poetry, fables, and books about other cultures.
---
Previous Posts