Children's Library
Monday, September 22, 2014 by Kathie Butler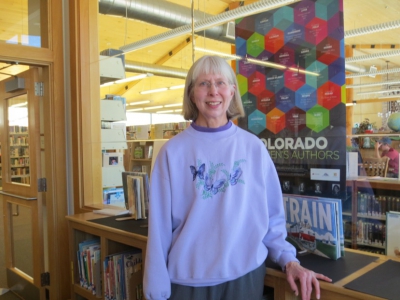 I love my job as a Children's Librarian. In the eleven years of working at the Dolores Public Library, I have seldom missed a Story Time or other program, but in August, my director suggested I cancel Story Time for the whole month. I had several conflicting obligations and I also wanted to have a week's vacation before the busy school year started up again.
So, I emailed my Story Time moms with the news and canceled Preschool Story Time for a whole month! The first week things seemed to go okay, because I was at the elementary school for two days registering kids for after-school programs. The next week I felt like something was missing, like I had forgotten to do something. And then I started missing the little ones. Unless you've ever been a teacher or a children's librarian, you might not realize how precious and important those little ones can become.
So, on the third week of no Story Time, I made a major decision. I emailed all the parents and invited them out to the ranch so the little ones could meet my alpacas. What a great idea that was! I don't know when I have enjoyed a day so much. In the first place, the day was gorgeous. We had had rain the night before, so everything was crisp and green.
I think I counted twenty-four children and about half that many parents. Some children were in backpacks, some had strollers, but most walked to the barn. Alpacas are very clean animals, having communal poop piles, so it was relatively easy to keep the children's shoes clean. And what fun for the little ones to walk right in with the alpacas, hands filled with grain to meet the animals face to face, and in some instances nose to nose.
Alpacas are curious, gentle animals. The children giggled as the soft noses nuzzled their hands, searching for each kernel of grain. Parents snapped lots of pictures, and the only way I could convince some of the children to leave the barn was to tell them they could go see the chickens, goats and geese, and could climb on the haystack.
Several children climbed on my tractor to sit in the seat and pretend drive. Little Noah thought it was his tractor and didn't want any other children to come near it.
The haystack was great fun to climb on, slide down, and jump from bale to bale, especially with one of the big brothers there to help little ones up the big steps. After a walk through the pine forest on a short loop of the bluebird trail, everyone left. But I was happy again and determined never again to go a whole month without seeing my little ones.
---
---
---
The Library at Butler Corner is awesome. Please come and visit. There are so many beautiful books – children's books, middle grade books, and adult books. We have a loft where you can curl up and read, and all the books are check-out-able if you have a membership to Butler Corner. Memberships are $20 per year for an individual, $30 a year for a family of 5, and $50 a year for the "birder's special" for those who want to come early in the morning or late in the evening to walk the trails at the Nature Center.
The library is an "old fashioned" library with pockets inside the books where you sign the card to check it out. Most of the books are nature related, except for the children's books where we have a large selection of not only nature books, but fairy tales, story books, poetry, fables, and books about other cultures.
---
Previous Posts